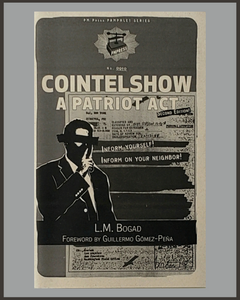 Cointelshow: A Patriot Act-L.M. Bogad
Author and performer L.M. Bogad puts the "act" in "Patriot Act" with this darkly humorous (and darkly factual) script for a performance piece that follows Special Agent Christian White on a tour down the rabbit hole of declassified government surveillance documents.
Publisher: PM Press     2018 [second edition]     48 pages
NEW Staple-bound pamphlet, 8.5 x 5.5"
---
We Also Recommend